MEN'S SERVICE
Hair Plus
PINPOINT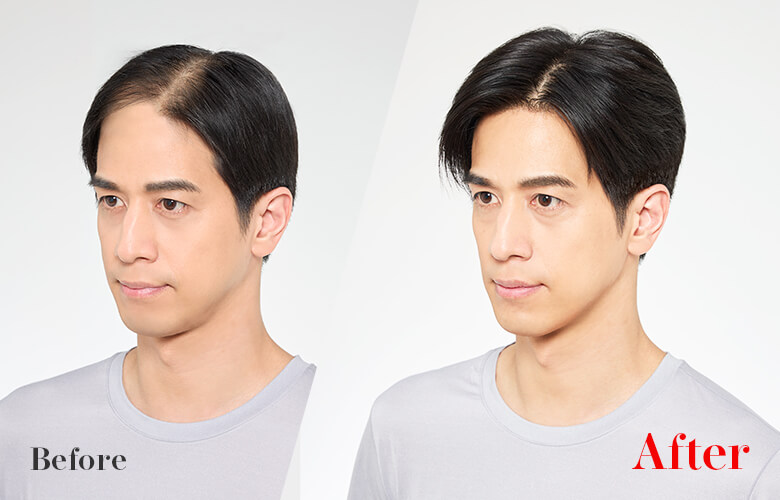 Make use of your existing hair to increase hair volume.
Fuss-free Maintenance.
You can treat the areas of concern easily using Hair Plus PINPOINT.
Introducing an easy and effective way to increase your hair volume.

4 Essential Points
A perfect re-creation of your hair type.
We can re-create a variety of hair types and colours.
It will blend with your hair very naturally.
Progressively increase your hair volume based on individual needs

You will have a natural look and feel just like your own hair.

The Natural Sensation

Our Hair Plus Pinpoint uses artificial hair with a variety of colours which blend with your own hair natural.

Wash and Shampoo your hair the way you like

You can continue your daily haircare routine without any extra fuss.

Style your Hair

As your natural hair grows, enjoy styling your hair, whether it is cut,colour, perm, just the way you like.
Our Technology
and Dedication
Seamless integration into your own hair.

The quality of our artificial hair and the skills of our hairstylists are crucial for a seamless integration into your own hair. We use our own Cyberhair, which has the kind of bounce and lustre comparable to natural hair. Whatever your hair colour and texture are, we are capable of matching it to perfection. Our skilled hairstylists ensure a natural finish. Even the hairline looks natural and you will not feel any weight at all.

Increase the volume at your own pace.

'I want a little volume just over here!' We are capable of meeting a request like this. Not only are you free to decide where but also how much hair you want there. Increase volume where you want it. When your hair volume is evened out, styling becomes easy. Volume is increased at your own pace. Come and try for yourself.

Vital Hair (for those who love changing styles).

Our Cyberhair recreates the kind of bounce and lustre that mimics natural hair. Even close-up is still natural. Our hair also has high shape retaining properties. No worries about getting wet. Once dry, the hairstyle will resume.
STYLES
Various styles available by the combination of "hair plus" PINPOINT series.
Can be customized according to the need of customers.
Top: PINPOINT Vital EX Micro Return
Front: PINPOINT Vital EX Neo x 2
*This is just an example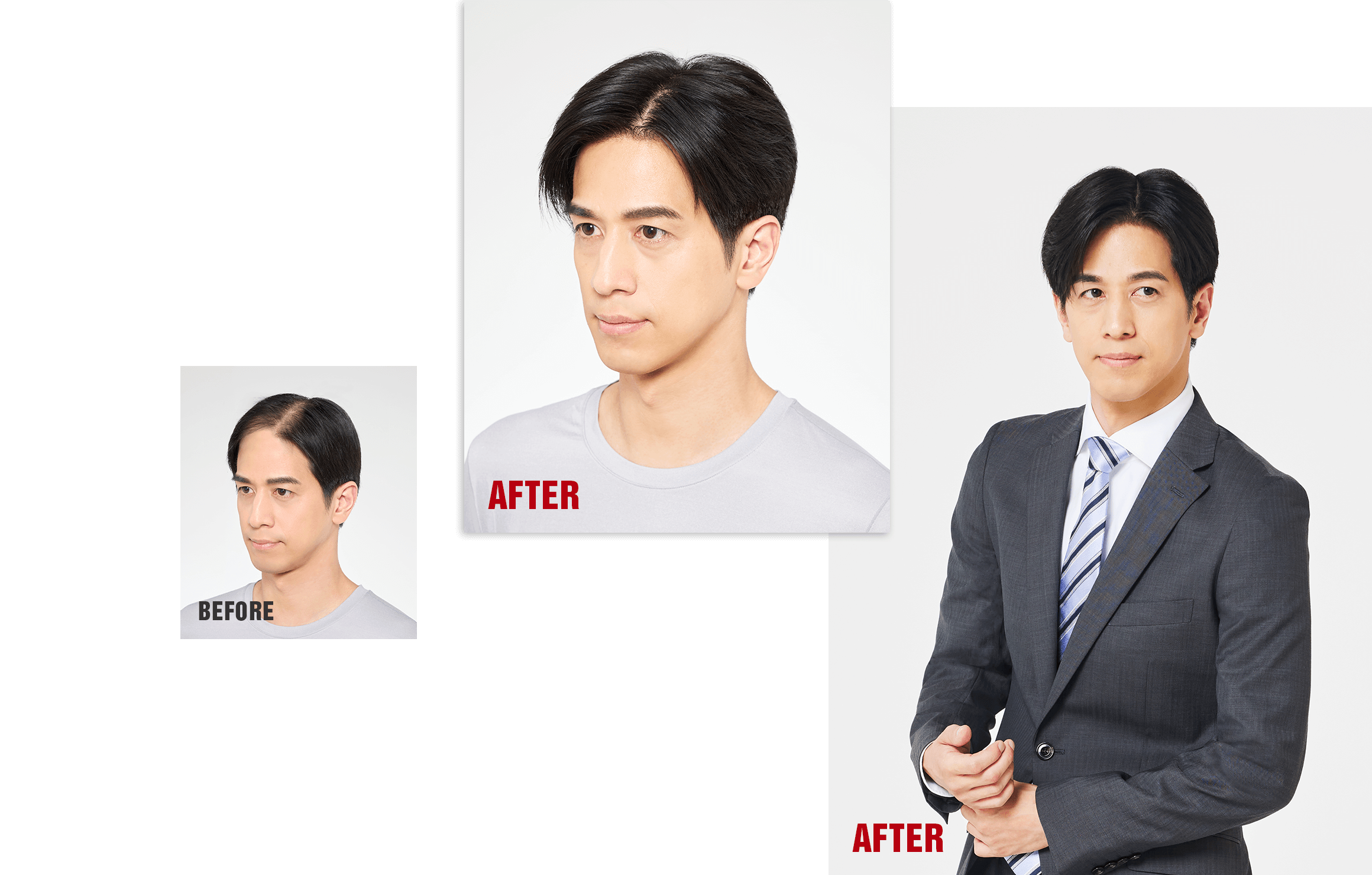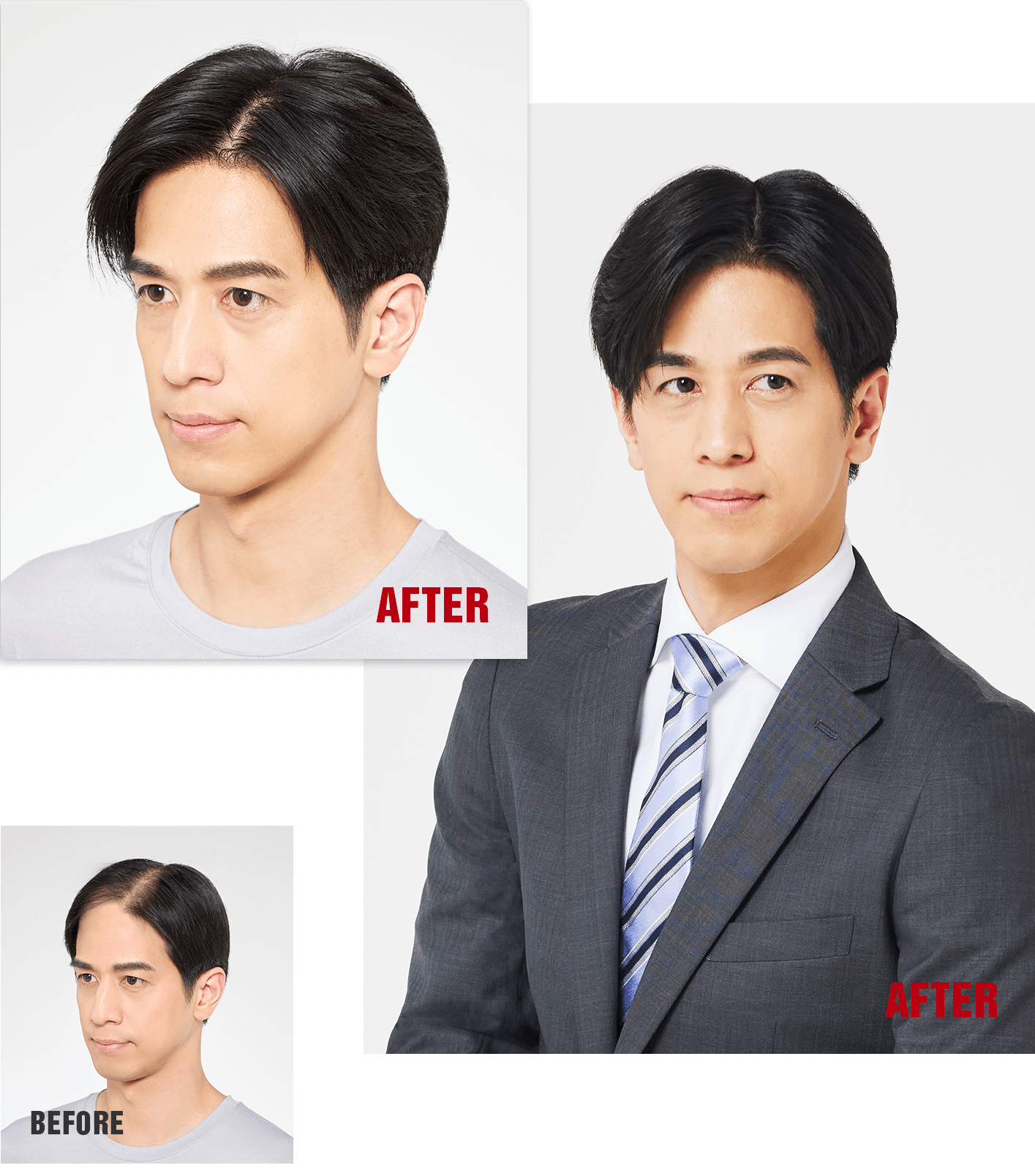 STYLE 01
Top: PINPOINT Vital EX Fastline
Front: PINPOINT Vital EX Neo x 2
*This is just an example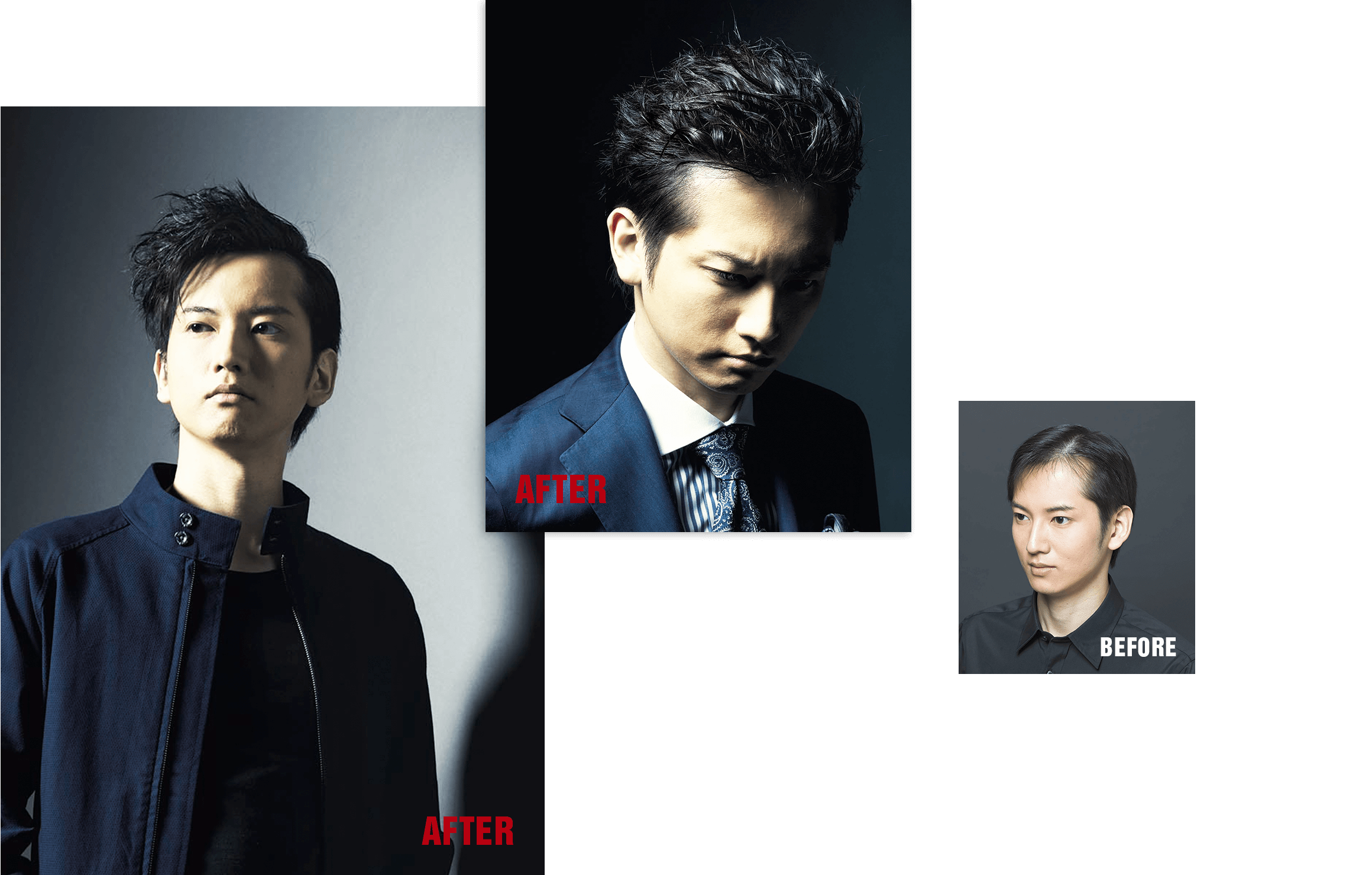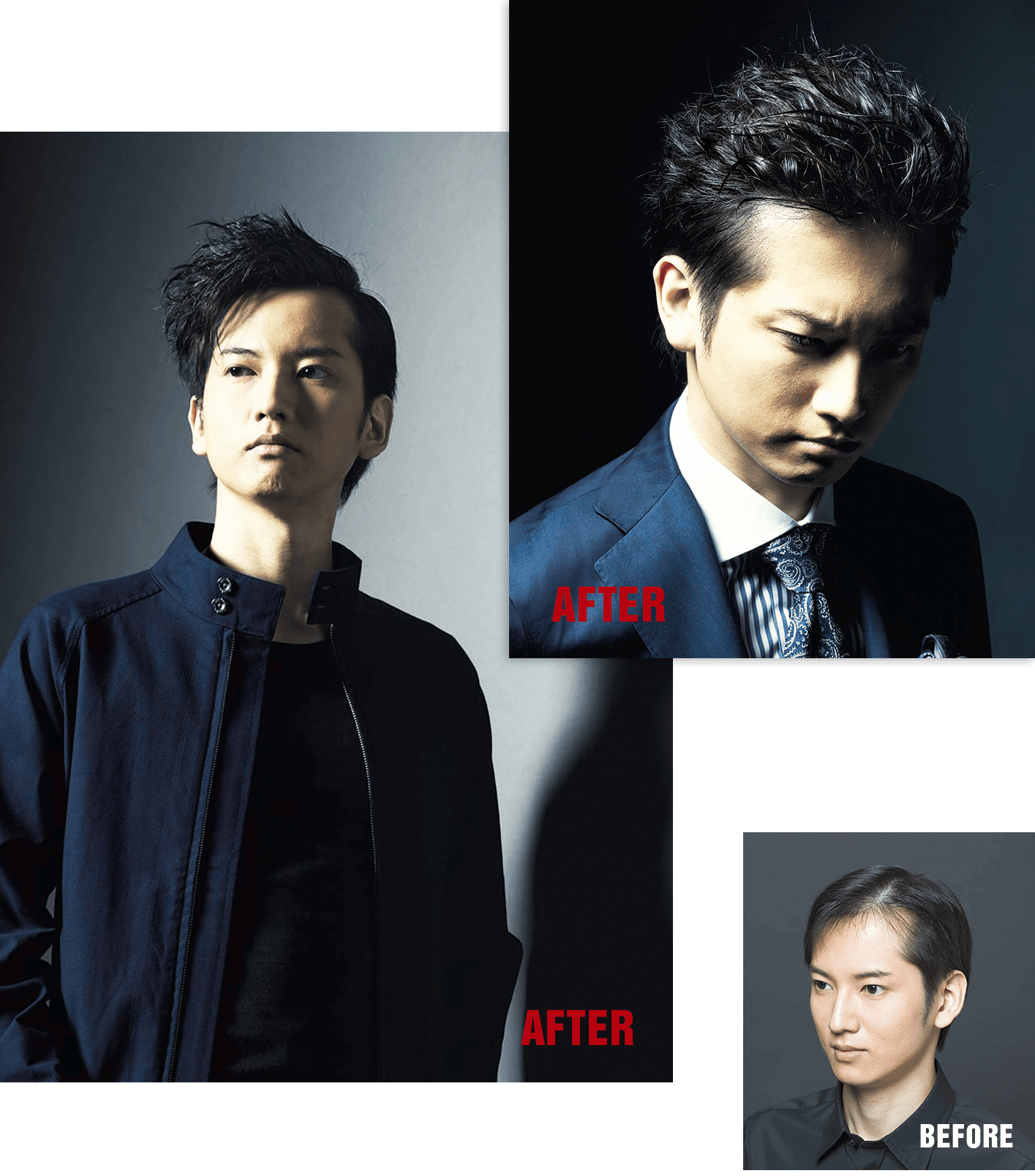 STYLE 02
EXPERIENCE
Demo of the advanced technology of Aderans
Let's see how it goes in a day!
01

Arrived at the salon

Arrived at the salon where I booked the online for the PINPOINT hair volumizing service. What is it like?

02

Started a demo

Oh, so this is the way how they volumizing the hair.
This private room is so calm.

03

Counseling

After the demo, I was able to ask various questions such as the price, and also got some advice on the hair and scalp. That's the really professional hair adviser!

04

At Home

It's amazing that you can still use shampoo and hair dryer after volumizing. I almost had forgotten I did hair volumizing!

05

Next Morning

Put hair styling products as always and all set!
It seems better than usual?
I will go for working!
VOICE
USER'S VOICE
I never thought my hair could look like this.

My hobby is mixed martial arts. Now I can wash my hair freely after training! If I don't have to train, I style it with a hair wax. I'd be interested in perming and colouring next time!

Mr W.S

I was very pleased that I could increase the volume at my own pace!

My hair volume was increased gradually over a period of several months, so even people I saw every day did not notice it!
I am most happy because finally I look good in a suit. My girlfriend thinks I look great too.

Mr U.H

I was so pleased that Aderans could even accommodate grey hair!

I can't tell my own hair and PINPOINT apart! After my hair volume increased, I have been more inclined to meet my cycling friends!
The volume remains even after I wear a safety helmet!

Mr R.H
Q&A
Here are some frequently asked questions from
our customer about Aderans Hair Volumizing.
Q.

What is the difference between the Hair Volumizing and Hair Restoration?

A.

Hair Volumizing is a way to increase the hair artificially where are getting thinner,
Hair Restoration is to improve the whole environment of the scalp, and keep your existing hair healthy.

Q.

My hair is quite short, but can I try hair volumizing?

A.

The length of hair should be more than 4cm because of the hair volumizing is a way to tie artificial hair or human hair to your original hair.

Q.

How long will it last if I got a hair volumizing?

A.

Since the hair volumizing is a way to tie artificial hair to the root of your own hair, if your own hair has grown, the knot also comes up.Although there is individual differences, but there are many customers who come to the store for maintenance once or twice a month to add new hair or put their taken hair back.

Q.

I do not know the number required for myself.

A.

The amount of hair you need depending on your current hair condition and the hairstyle you want to be.
Our Hair Adviser will meet your request and suggest the best method and number you need, so please feel free to try our demo and free consultation first.