Hair loss resulting from chemotherapy
Here we will introduce the mechanism behind hair loss related to side effects from treatment with anticancer drugs and the process from starting anticancer medication until regaining your hair.
Mechanism for hair loss
There are various side effects associated with anticancer drugs; however, one of the worst for female patients must be hair loss. Here, we will provide an easy-to-understand explanation of the mechanism behind hair loss resulting from anticancer medication.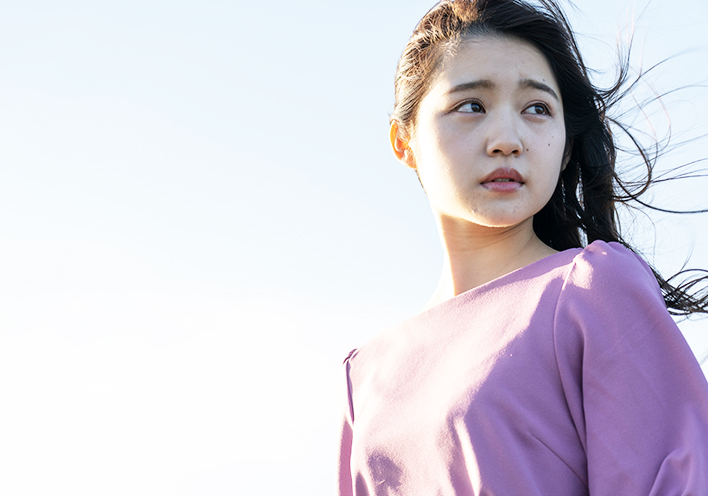 Why does hair loss occur?

It occurs because anticancer drugs also damage normal cells.

Anticancer drugs not only destroy cancer cells but also fast-growing normal cells. One of these fast-growing cells is the hair matrix cell located at the root of the hair.

How long does it take for hair loss to begin?

Normally, hair loss begins around the 2nd to 3rd week after starting the anticancer drugs.

When hair loss begins, there is said to be a mild pain in the scalp. The speed and extent of hair loss varies greatly between individuals according to the type of medication and patient's physical condition, with some losing all their hair at once and others experiencing a gradual thinning of hair. What's more, hair loss does not just affect the head, it also occurs for the eyebrows, eyelashes, nostrils and all other hair on the body.

What should I do when I begin losing hair?

Please gently wash your hair with a mild shampoo.

As short hair is easy-to-manage and takes the least time to return to its original hair style, we recommend cutting your hair before hair loss begins. The scalp is easily damaged when undergoing hair loss, so when using a brush, please select one made from a soft material and gently wash your hair using a mild, weakly acidic shampoo. Avoid perming and coloring your hair during hair loss, as these deliver added stress and are the cause of damage to your hair and scalp.

When going out after the start of hair loss, we recommend wearing dark color clothes instead of white or monochrome attire which highlights loose hairs. Also, wearing a bandana or knit cap when indoors makes cleaning up loose hairs a cinch. You can also use a lint roller or tape for easy cleaning.

When will my hair start to grow back?

Normally, new hair begins to grow back around 1 to 3 months after completing your anticancer medication.

In general, it takes 1 to 3 months after completing your anticancer medication for new hair to start growing, and at 8 to 10 months you should have enough hair to be able to visit a salon. When beginning to grow back, the hair that comes in may have a different quality from your original hair but after cutting it, will return to its original character in the majority of cases. While there are differences between individuals, it generally take about 1 year after finishing treatment for your hair to grow back and you to be able to remove your wig.

In conclusion, patients will have a relationship with their wig for over a year. As your wig will serve as your long-term partner, please carefully select the one for you and handle it with special care.
From starting anticancer medication until
regaining all your hair (a case breast cancer)
We will now provide a flow chart covering the beginning of treatment with anticancer medication until fully regaining one's hair. Please use this as a guide for when to purchase and use your wig. While varying according to the type of cancer, we will provide an example here for a case of breast cancer.
*The timeline for hair loss and the regrowth of hair varies between individuals according to the type of anticancer medication and the physical condition of the patient, etc.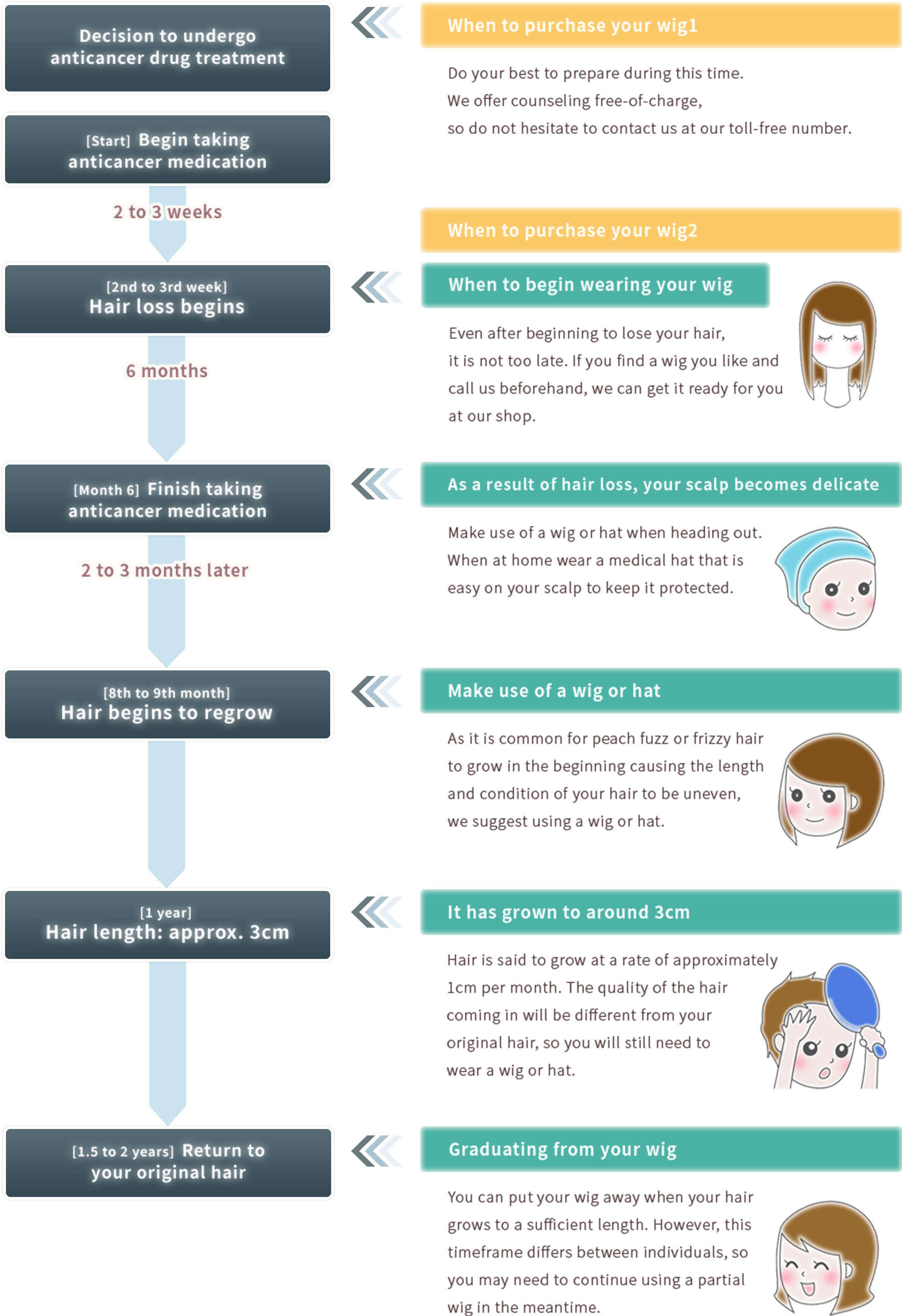 Depending on the anticancer medication, hair may fall out slowly or all at once, but by the 2nd to 3rd week after starting treatment hair loss will begin.
The period for taking anticancer medication varies from person to person; however, at approximately 2 to 3 months after finishing treatment, hair will begin growing back. Please take care as in the beginning your hair and scalp will be delicate.
One year after completing your anticancer medication, your hair will have grown to a sufficient length for you to put your wig on the shelf. The period when this can be done, however, varies between individuals, so you may need to use a partial wig in the meantime.