MEN'S SCALP CARE PRODUCTS
Plant-inspired


HairRepro EX V5

HEALTHY and NATURAL BEAUTY FOR SCALP & HAIR
Focus on Anti-Aging and Scalp Restoration for HAIR GROWTH
Restoration of Healthy
Hair Care Routine
HairRepro V5 designed for Hair Growth Cycle & Factors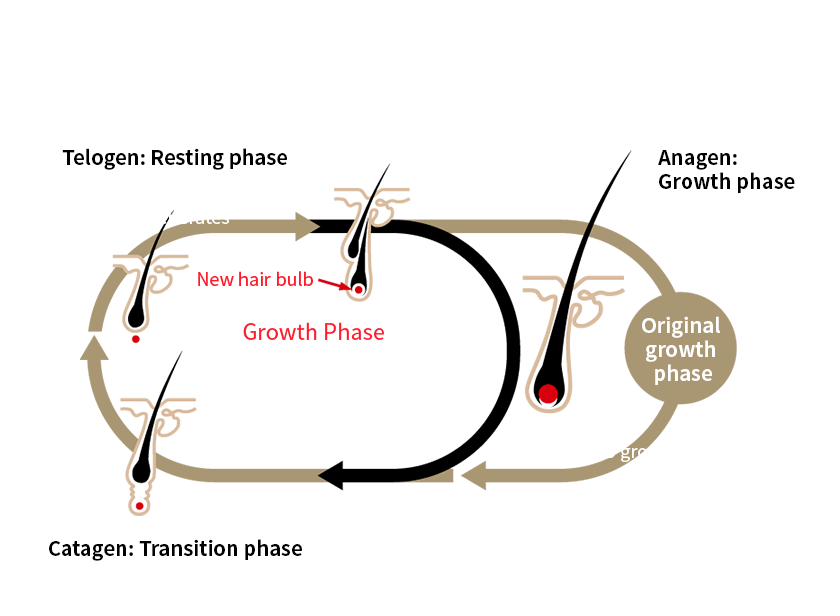 4 Steps

for Hair Care

* Deeply into stratum corneum
01

Focus on Anti-Aging (Anti-Saccharification)

Infused with original ingredients
– "CR2 Complex *"
in the series of HairRepro V5
* Celery, Rutin
02

Hair & Scalp Care with Natural and Eco-Friendly Elements

Shampoo & Treatments with excellent biodegradability
Plant-derived moisturizing ingredients
0% of paraben, silicone, sulfate*, fragrance, colorants, mineral oil and phenoxyethanol
(*sulfate-free only for shampoo)
SERIES LINEUP
STEP1
Cleansing

HairRepro Scalp Cleansing EX V5

designed to gently lift and remove buildup and excess sebum from scalp, absorbing any unwanted odors, providing the foundation for healthier scalp condition.

Benefits
High Salon-Quality Scalp Care Product
Infused with activated charcoal to purify your scalp
Leaves your scalp feeling clean and refreshed
Soothes scalp problems with naturally-derived ingredients
0% of paraben, silicone, fragrance, colorants, mineral oil and phenoxyethanol
Active Ingredients
Charcoal – helps absorb the buildup and excess sebum
Celery stem extract and Rutin – helps in hair growth, improving the texture of hair with anti-aging effect
Rosemary leaf extract – purifies and soothes scalp with anti-inflammatory effect
Citrus Junos Fruit Extract – moisturizes and mitigates irritation
Who it is for
For those who want to get rid of smelly scalp and excess oil which weight your hair down
For those who have itchy and aging scalp
How to use
Use before shampooing on the dry hair
Apply small amount with fingertip to about 10 areas on the scalp
Gently massage the entire scalp and leave 1-2 minutes
Then rinse off
Use 2-3 times a week
STEP2
Shampooing

HairRepro Scalp Shampoo (Oily) EX V5

formulated with 5 kinds of amino acids as well as naturally-derived nurturing moisturizers to gently cleanse your scalp while keeping healthy sebum level with hydration, providing bounce and resilience to your hair.

Benefits
High Salon-Quality Hair Care Product
Infused with 5 kinds of amino acids to gently cleanse hair
Keeps your hair looking clean and healthy
Conditions and moisturizes with natural ingredients
0% of paraben, silicone, sulfate, fragrance, colorants,mineral oil and phenoxyethanol
Active Ingredients
Celery stem extract and Rutin – helps in hair growth,improving the texture of hair with anti-aging effect
Saccharomyces/barley seed ferment filtrate extract – helps to care grey hair due to stress
Luffa cylindrica fruit/leaf/stem extract – promotes hair growth and hydrates hair
Phyllostachys pubescens shoot bark extract – stimulates hair growth, softens scalp, giving your hair weightless bounce
Who it is for
For those who suffer from greasy hair and want to have refreshed and bouncy hair
How to use
Recommended to shampoo your hair twice
The first round is to get rid of the superficial dirt on the hair while the second is to actually cleanse your hair and scalp,using less amount of shampoo
Apply to wet hair. Massage delicately with fingertips creating a rich, foaming lather
Then rinse thoroughly
Depending on the hair length and density, dispense the correct amount of shampoo, about 2 pumps is recommended
HairRepro Scalp Shampoo
(Normal & Dry) EX V5

enriched with 5 kinds of amino acids as well as naturally-derived nurturing moisturizers to gently cleanse your scalp while adding hydration and nourishment to your scalp and hair. It is perfect for frequent washer and post-workout recovery.

Benefits
High Salon-Quality Hair Care Product
Infused with 5 kinds of amino acids to gently cleanse hair
Keeps your hair looking clean and healthy
Conditions and moisturizes with natural ingredients
0% of paraben, silicone, sulfate, fragrance, colorants, mineral oil and phenoxyethanol
Active Ingredients
Celery stem extract and Rutin – helps in hair growth, improving the texture of hair with anti-aging effect
Saccharomyces/barley seed ferment filtrate extract – helps to care grey hair due to stress
Luffa cylindrica fruit/leaf/stem extract – promotes hair growth and hydrates hair
Coix lachryma‐jobi ma-yuen seed – moisturizes
Prunus mume fruit extract – hydrates hair with anti-aging effect
Who it is for
For those who want to combat dryness and roughness
For those who have itchy and aging scalp due to dry scalp
How to use
Recommended to shampoo your hair twice
The first round is to get rid of the superficial dirt on the hair while the second is to actually cleanse your hair and scalp,using less amount of shampoo
Apply to wet hair. Massage delicately with fingertips creating a rich, foaming lather
Then rinse thoroughly
Depending on the hair length and density, dispense the correct amount of shampoo, about 2 pumps is recommended
STEP3
Conditioning

HairRepro Scalp Keep EX V5

a mild conditioner that is intensively formulated with 11 kinds of amino acid-based moisturizing ingredients to soothe your scalp and moisturize your hair roots to ends.

Benefits
High Salon-Quality Scalp & Hair Care Product
Infused with 11 kinds of amino acids to condition and moisturize your scalp & hair
Adds moisture, bounce, and shine to each strand of hair with plant-derived moisturizing ingredients
0% of paraben, silicone, fragrance, colorants, mineral oil and phenoxyethanol
Active Ingredients
Celery stem extract and Rutin – helps in hair growth, improving the texture of hair with anti-aging effect
Yeast Extract – supplies zinc to strengthen hair follicle
Camellia Japonica seed oil – conditions hair strands from root to tip
Eucalyptus globulus leaf – stimulates hair follicle for healthier hair growth, and relieves itchy scalp
Phyllostachys pubescens shoot bark extract – promotes hair growth and leaves hair feeling softer, bouncier, and more resilient
Who it is for
For those who want to improve the areas of the scalp that are itchy, rough, and prevent the symptom of aging
For those who like to remove undesirable smells
For those who want to have hair filled with bounce and resilience
How to use
After rinsing out all shampoo, apply an appropriate amount and spread it evenly on the ends of wet and clean hair
Run your fingers through the ends of your hair to work in the conditioner
Leave in 3 to 5 minutes, then rinse off thoroughly
STEP4
Nurturing

HairRepro Scalp Grow α EX V5

designed to promote hair growth and enhance the strength of hair roots. This powerful hair-growth tonic is exclusively formulated with ginseng extract to stimulate the scalp and encourage hair growth.

Benefits
High Salon-Quality Hair Growth Agent
Infused with ginseng extract to improve blood circulation and hair loss
0% of paraben, silicone, fragrance, colorants, mineral oil and phenoxyethanol
Active Ingredients
Panax ginseng root extract – improves blood circulation and encourage hair growth
Celery stem extract and Rutin – helps in hair growth, improving the texture of hair with anti-aging effect
Pinus Sylvestris cone extract and camellia sinensis leaf extract – rejuvenates hair and stimulates hair growth cycle
Royal jelly ferment filtrate and phyllostachys pubescens shoot bark extract – activates hair papilla cells and improves thinning hair
Who it is for
For those who care about thinning hair and want to promote hair growth
How to use
Use it after shampooing and drying your hair
Divide hair into small sections and apply small amounts with fingertips over the entire scalp. After applying the serum, gently massage the scalp
No rinsing needed
Use twice a day (in the morning and at night) is recommended
HairRepro Scalp Grow β EX V5

designed to improve blood flow, prevent hair loss and stimulate hair growth. This powerful hair-growth tonic is exclusively formulated with Stephania Cepharantha Root Extract and panax ginseng root extract to prevent hair loss, help stimulate hair follicles and promote microcirculation in the scalp.

Benefits
High Salon-Quality Hair Growth Agent
Infused with ginseng extract to improve blood circulation and hair loss
0% of paraben, silicone, fragrance, colorants, mineral oil and phenoxyethanol
Active Ingredients
Swertia japonica extract – promotes blood circulation and hair growth
Panax ginseng root extract – increases dermal papilla cells in the scalp, strengthening and nurturing hair follicles
Celery stem extract and Rutin – helps in hair growth, improving the texture of hair with anti-aging effect
Eriobotrya japonica leaf extract and prunus mume fruit extract – increases dermal papilla cells in the scalp
Phyllostachys pubescens shoot bark extract – activates dermal papilla cells, promotes hair growth and improves thinning hair
Who it is for
For those who want to prevent hair loss and care about current hair condition
How to use
Use it after shampooing and drying your hair
Divide hair into small sections and apply small amounts with fingertips over the entire scalp. After applying the serum, gently massage the scalp
No rinsing needed
Use twice a day (in the morning and at night) is recommended
HairRepro Scalp Grow F EX V5

essentially designed to improve the symptom of aging and stimulate hair growth. This powerful hair growth serum is exclusively formulated with 4 kinds of active ingredients and 13 kinds of natural ingredients to help create a healthy scalp condition for hair growth.

Benefits
High Salon-Quality Hair Growth Agent
Formulated with 4 kinds of active ingredients to maintain healthy scalp condition
13 kinds of plant-derived ingredients work to curb symptom of aging and proliferate hair papilla cell
0% of paraben, silicone, fragrance, colorants, mineral oil and phenoxyethanol
Active Ingredients
Stephania Cepharantha Root Extract– improves blood circulation while boosting hair growth
Celery stem extract and Rutin – helps in hair growth, improving the texture of hair with anti-aging effect
Hops extract/licorice leaf extract – helps proliferate hair papilla cell
Saccharomyces/barley seed ferment filtrate extract – prevents gray hair due to stress and help generate melanin
Who it is for
For those who care about thinning hair and want to promote hair growth
For those who want to prevent hair loss and symptom of aging
For those who have itchy scalp
How to use
Use it after shampooing and drying your hair
Divide hair into small sections and apply small amounts with fingertips over the entire scalp
After applying the serum, gently massage the scalp
No rinsing needed
Use twice a day (in the morning and at night) is recommended
How to use
"Hair Growth Effect comes from daily proper care"
Daily scalp & hair care plays a vital role in HAIR GROWTH. In the following 4 steps, we will guide you how to take good care of your scalp & hair while ensuring that the active ingredients are effectively absorbed into your scalp.
STEP01
Cleansing
Cleanse impurities from scalp
Use it before shampooing on the dry hair. Apply small amount with fingertip to about 10 areas on the scalp. Gently massage the entire scalp. Then rinse with water after 1-2 minutes.
STEP02
Shampooing
Shampoo your hair twice
The first round is to get rid of the superficial dirt on the hair while the second is to actually cleanse your hair and scalp, using less amount of shampoo. Apply to wet hair. Massage delicately with fingertips creating a rich, foaming lather. Then rinse thoroughly.
Depending on the hair length and density, dispense the correct amount of shampoo, about 2 pumps is recommended.
STEP03
Conditioning
Hair treatment from roots to hair ends
After rinsing out all shampoo, apply an appropriate amount and spread it evenly on the ends of wet and clean hair. Run your fingers through the ends of your hair to work in the conditioner.
Leave in 3 to 5 minutes, then rinse off thoroughly.
Start from hair roots when drying your hair
Wet hair makes hair easier to damage, so dry your hair immediately after washing your hair. The trick here is to dry your hair starting from hair roots.
STEP04
Nurturing
Apply hair growth agent to the clean skin to deliver nutrients
After drying the hair and scalp, apply section by section over the entire scalp with dropper. Massage gently with fingertips to help hair growth agents better absorb. Using twice a day (in the morning and at night) is recommended.
Head Massage Method
After applying the hair growth agent, gently massage into scalp for 2-3 minutes.
Loosen up the entire scalp
Press and move your entire head in small circles with the palm of your hand.
Lift up from the bottom to the top
Massage the head like drawing a spiral from the neckline to the top.
lightly tapping the head
Lightly tapping on both sides of the head and the neckline, from bottom to top, in a way of flicking your fingertips.
Press acupoints        
Using fingertips of both thumbs to stimulate the acupoints in order.